Saya nak cerita tentang buku..ada beberapa buku yang rasanya boleh kongsi dengan kawan semua...mana yang pro dalam hal jahit menjahit ni tentu tak hairan sangat dengan buku2 yang saya baru beli ni...cuma untuk yang baru mula nak mendalami bidang ni (macam saya) bolehla memilikinya....mari kenali buku2 saya....
atas permintaan ramai saya upload gambar...(gambar ni untuk rujukan sahaja)
koleksi Buku tempatan saya....
1. Buku A-Z Jahit Sulam 1 (terjemahan dari buku country bumpkins)...
banyak info dan jenis jahitan sulam benang dalam buku ni....berbaloi juga untuk yang memang zero dalam jahitan ni...(macam saya)...banyak gambar...dan step...by step..
2. Buku A-Z Jahit Sulam 2 (terjemahan dari buku country bumpkins)...
samalah juga dengan yang atas...banyak ajar tentang jahit sulam benang...tak pandai nak bandingkan...cuma bagi pendapat saya oke sangatla...
3. Buku A-Z Jahit Manik (terjemahan dari buku country bumpkins)...
buku ni ajar tentang jahit manik..biasalah buku pon buku mat saleh so design banyak ala2 dorang la kan...oke jugak cuma bg saya kepada yang nak belajar selok belok jahit manik...yang banyak design melayu tu...buku yang saya dengar bagus buku rosita jafar..saya pon belum jumpa buku ni....(ada yang rela tolong belikan?haha nak jugak..)..
4. Bunga Reben-Suzana Mustafa
5. Asas Sulam Reben-Suzana Mustafa
untuk keterangan lanjut boleh ke blog Pn.ann..yang no 4. tu 10 teknik bunga reben yang biasanya owang buat bunga telur atau hiasan dulang.....yang no 5. pulak Asas sulam reben..up to you.
1. The Silk Ribbon Embroidery Bible
..baru beli..pendapat saya...bagus sangat..kalau dulu saya jumpa buku ni tentu saya tak kemaruk beli buku RE yang lain...
2. A-Z of Ribbon Embroidery by country bumpkins..
satu2 nya buku Country Bumpkins..saya berjaya beli..sayangnya saya beli ketika dah naik harga..AUD$34.95 (RM105 kat M'sia ni)..mahal betul cuma berbaloilah buku dorang ni siap design cantik2...
3. Glorious Ribbons - Christine Kingdom
baguss sangat buku ni...banyak ideas n design ..saya belum habis tengok...tapi memang best...bilalah agaknya habis study buku2 ni...hehe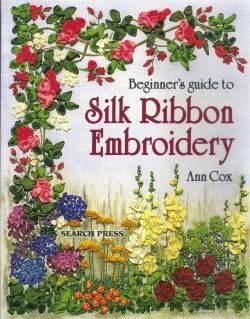 4. Beginners Guide to Silk RE -Ann Cox..
ni penulis pujaan saya..akhirnya dapat jugak beli buku ni...kat MPH lama dah saya order tak sampai2...stok takde...thanks to
kak nisa
...tqvm.....sampaikan hajat saya memiliki buku ni..
5. Design n Techniques RE - Ann Cox
Still on the way...sikit masa lagi sampai...tak sabar rasanya..hehe tamak ke...banyak sangat buku...haha...taklah...sikit jer tu berbanding ilmu yang bakal kita terima kalau mendalami semuanya..betul tak...saya bukan jenis kemaruk main beli ajer..ekceli semua ni selepas kajian (gelak sikit..kihkihkih) beberapa tahun...search here n there..tanya owang banyak pengalaman...memang confirm best baru beli...so berbaloila...
bersabarlah sahabat saya sekelian (muahahaaaha) saya akan mulakan projek saya..(adoi semangat bukan main...enjin tah bila nak start)...
kepada yang nak beli buku ni ...boleh ke website ,Amazon.com, MPH atau Utusan)